G'day guys! Do you want the chance to win an Aussie Summer Party pack? Yes? Then read on...
A few days ago I received my very own Aussie Summer Party pack in the post!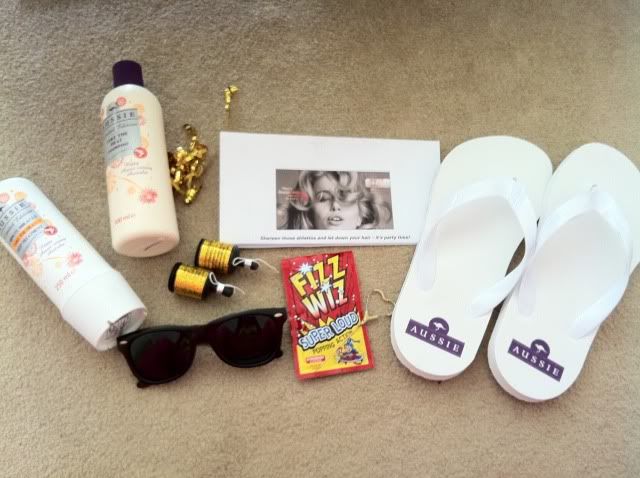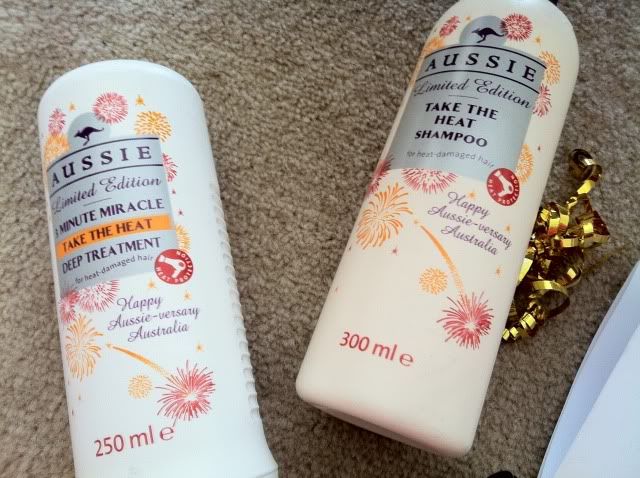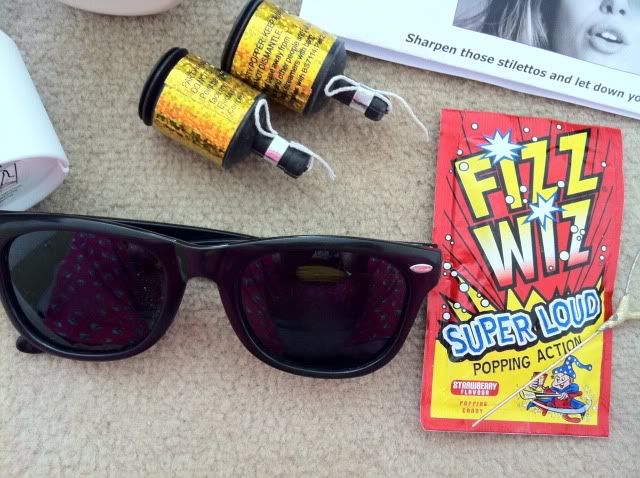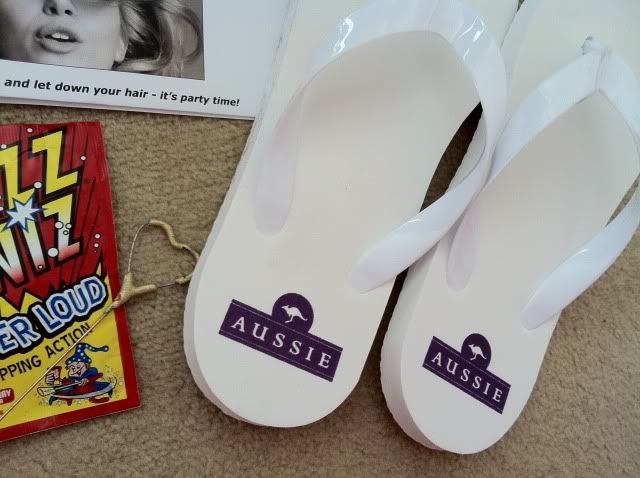 Mine contained Aussie Take the Heat shampoo and three minute miracle (in the GORGEOUS limited edition aussie-versary bottles), sunglasses (that I've been wearing whilst driving ever since!), aussie flipflops, party poppers, a sparkler, and popping candy!
Along with it was a little letter saying I could host a competition for you guys giving 7 of you the chance to win your very own Summer Party pack! Exciting right!
So, all you need to do to win a Summer Party pack is comment on this blog post telling me something that you have to celebrate... it can be absolutely anything - big or small! So for example you could comment saying 'I need to celebrate because I got great A-level results' or 'I need to celebrate because it's my dogs first birthday' it can be literally
anything
! If you're one of the 7 winners you'll also get the opportunity to win VIP tickets to the Aussie-versary Summer Party this year where you can meet me and about a million other Aussie Angels and we can all make friends and such :D haha!
SO the deadline for entries is tomorrow
Friday 19th August
hence this being a bit of a flash competition (I've been crazy busy sorting things for my new job!) I will then pick the winners and announce them on
Tuesday 23rd August
!
Remember, all you need to do is comment on this post, telling me what reason you have to celebrate (there are absolutely no restrictions on these reasons!) obviously you also need to follow my blog, otherwise you won't be able to comment!
I'll put a read more break in with the Terms and Conditions so that this blog post isn't super duper long but happy commenting!
xo
ps - the read more breaks are a bit 'hit and miss' so if it doesn't work, i'm sorry! It's bloggers fault!
Terms and conditions
1. This competition is open to the Aussie Angels online communities
2. Winners must be UK Mainland residents and aged 18 years or over
3. Winners of the giveaway are to be chosen by Aussie Angels
4. To enter, community members must write a blog post, OR comment on an Angels' Giveaway blog post, stating how they qualify for a Summer Party pack
5. To qualify for winning the Summer party pack, they must have something to celebrate (there are no restrictions on their reasons for celebration)
6. Selection criteria: Each Aussie Angel will select their own 7 community member winners. Selection is entirely at each Angels discretion
7. The Promoter will not be liable for applications not received, incomplete, delayed or damaged. Last date for receipt of entries is Friday 19 August 2011
8. There will be up to 7 winners per Aussie Angel
9. Winners must be chosen and notified in writing, by the Angels, by Tuesday 23 August 2011
10. The Angels must also notify Aussie, in writing, who they have chosen, by Tuesday 23 August 2011
11. A list of the prize winners will be available on www.uncoveraussie.co.uk after this date.
12. The prizes are as stated and cannot be transferred, sold or exchanged. There is no cash alternative. Only one prize per household. No bulk or third party entries accepted
13. Summer Party packs will be sent by Aussie, and all delivery costs covered by Aussie
14. By entering this competition, entrants agree to be bound by the rules and by any other requirements set out in the promotional material.