This blog was requested by
Angelica
. There are hundreds of girls all over the country/world who read blogs every single day and have a huge passion for make-up, unfortunately some/most of these girls don't have the budget for a lot of the high end make-up thats shown on a lot of blogs. After an email from Angelica, i decided to put together a blog post full on budget items that will suit anyone! All prices are from the boots or superdrug websites.
The Face: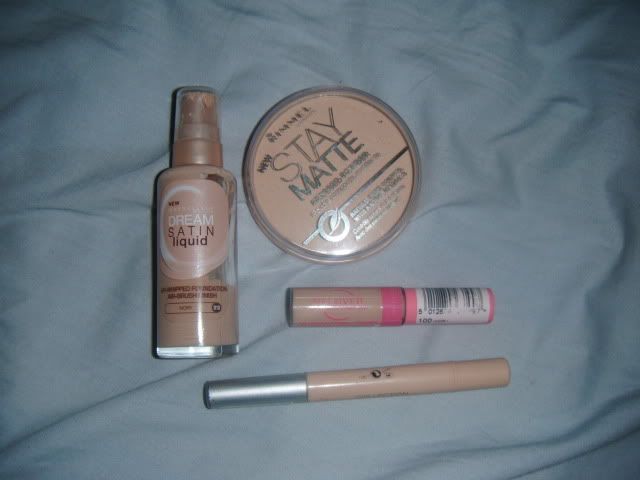 Maybelline dream satin liquid foundation.
This is available in a huge range of shades and retails at around £8. Its fantastic because it provides a medium buildable coverage that can either be left on its own for a healthy, glowing finish, or it can be set with powder for a more matte finish :)
Rimmel stay matte pressed powder
This costs around £4 and is a fantastic all round pressed powder, i use the transparent powder as its suitable for my really pale skintone. There isnt much i can say about this, its a fantastic, non-cakey, well priced powder :)
Collection 2000 illuminating touch light diffusing concealer
This is a budget touche-eclat! Its amazing for undereye circles or to highlight the bridge of the nose/cupids bow/cheekbones. Best of all? it only costs a fiver!! ive repurchased this more times than i can remember and i'll always go back to it as the £23 touche-eclat certainly isnt in my price range!!
rimmel recover anti-fatigue concealer
I use this when i need something lighter than my mac concealer, but heavier than the collection 2000 one. It costs about a fiver and is fantastic for the under eye area and any blemishes :)
The Cheeks: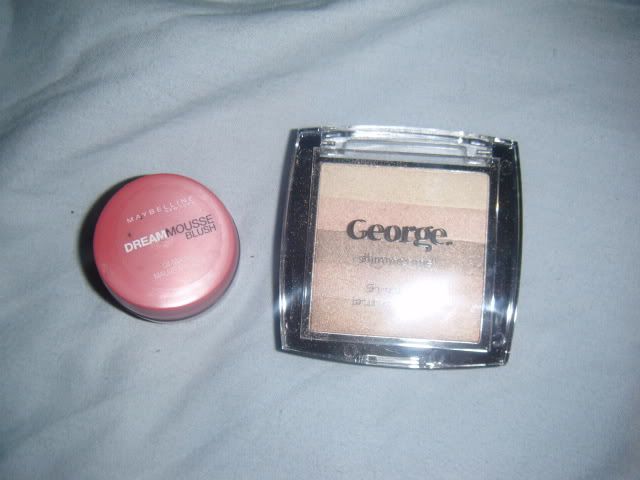 Maybelline dream mousse blush
These retail at around £6 and are lovely, they apply smoothly with fingers or a brush and blend out to a gorgeous finish, i go back to this blusher time and time again :)
George at Asda shimmer me!
These are a very new edition to the George make-up range, they cost £3 and are stunning, there are 3 shades available, all of which can be used as blushers or highlighters and they are also gorgeous when you layer them over a cream blush! looove this :)
The Eyes: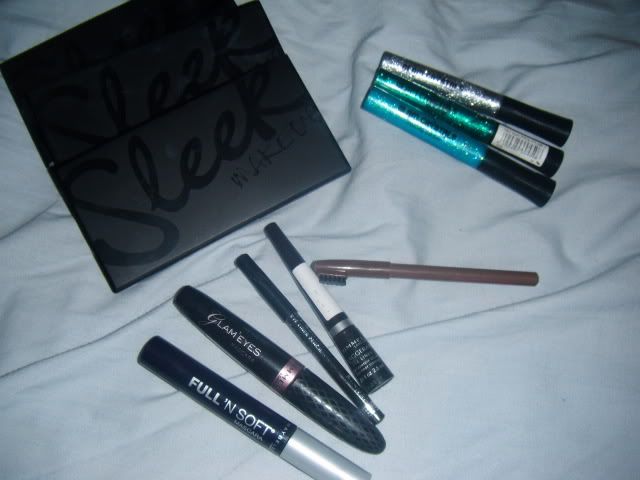 Sleek Pallettes
These are raved about everywhere and with a huge range of colours, 12 shades for a fiver and stunning packaging and colour combinations, who wouldn't want the whole collection! I currently own storm, curious and acid and i reach for them every day! The pigmentation is amazing and they're incredible value for money!
Rimmel liquid eyeliner and rimmel pencil eyeliner
The liquid eyeliner retails at £5 and the pencil liner retails at £3, there isnt really much i can say about eyeliners apart from these two both do 'the job' realy really well and they're a brilliant price :)
2true eyebrow pencil
This costs £1.85 and is a perfect colour match for my eyebrows! it lasts all day without losing any pigmentation and is fantastic for anyone with fair brows. I think 2true do a slightly darker pencil which would be just as good for someone with darker brows! i love this and for £2, if you dont love it, it doesnt matter!
Rimmel glam'eyes mascara and maybelline full n soft mascara
Rimmel glam'eyes retails at £7 and the maybelline full n soft isnt available in the uk but somehow i found it in my local tj hughes for £3!! both of these mascaras are fantastic. they seperate and lengthen and can easily be built up to more intense finishes! most days i use the full n soft as a primer before the glam'eyes and i love the look this gives! the glam'eyes also doesnt smudge (on me anyway) and lasts all day without flaking, smudging or crumbling :)
collection 2000 glam crystals glitter gel liners
Again, something that has been raved about time and time again! I have too faced and urban decay glitter liners and they're both absolutely pants compared to these beasts!! These are only £3 each and are a fantastic addition to anyones make-up bag, if you dont have the budget for lots of eyeshadows or liners then these are perfect for adding a bit of glitz for a night time look!
The Lips: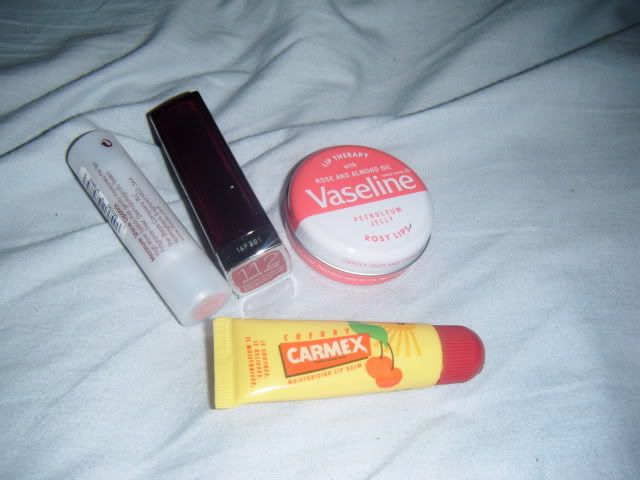 Maybelline colour sensational lipstick in 'ambre rose'
There has been hundreds of reviews on this lipstick and i love it just as much as everyone else! its the easiest lipstick in the world to wear and retails at around £7. Its a colour that would suit every skin tone :) if you dont like the look of it then all of the other colours are also fantastic!
Natural collection moisture shine lipstik in 'apple blossom'
this is only £2 and is a gorgeous nude pink colour, the whole range of lipsticks is lovely and there is a colour there to suit everyone :)
Vaselline rosy lips
for someone who doesnt want to wear lipstick this gives a lovely pink sheen to the lips and moisturises them at the same time, its great and is only about £1.50!!
Cherry carmex
My holy grail lip balm! this is only £2.50 and will completely banish chapped lips! if you dont want any colour on your lips then this is really, really good!
I've tried to cover all of the bases here but if you think there is anything i missed please let me know in a omment and i'll add it! I hope this was ok for you Angelica!!
xo