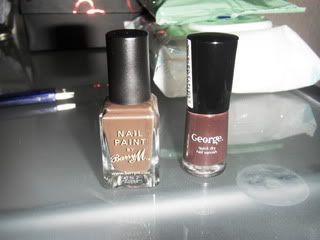 Left: Barry M Nail Pain in 129 'chocolate brown'
Right: George @ Asda Quick Dry Nail Varnish in 92 'rich chocolate'
I've already posted a youtube video with these in but wanted to be a bit more detailed.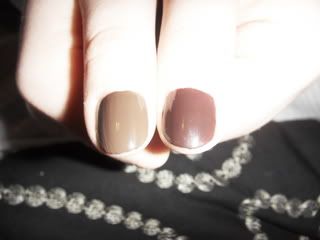 As you can see here the colours are completely different, in my video i described Barry M as 'milk chocolate' and the George polish as 'dark chocolate'. I absolutely love them both and if you read below you can see a bit more!
Barry M 129
Colour: 10/10 - its amazing, a nice creamy rich brown after two coats (as seen above).
Texture: 9/10 - because it dries quickly you have to work quite swiftly with it but its by no means difficult! also its a lovely 'runny-ish' texture which makes painting your nails really easy. thick gloopy polish is awful!
Price: 9/10 - its about £2.98 (i know its cheap but the asda one is cheaper!).
Amount of coats needed: two. one was almost enough but two gave a block colour :).
'Lastibility': 9/10 - last about 4 days without chipping (i know i only bought it today but my other barry m polishes last about 4 days!).
Drying time: 10/10 - it took about two minutes for the first coat to dry, then another two for the second coat!
George@Asda 92
Colour: 9/10 - its a rich brown but has a very red/plummy tone to it...
Texture: 10/10 - goes on incredibly easily and is a relatively 'runny' consistency which makes it a lot easier to work with!
Price: 10/10 - it was £1.50! bargain!!
Amount of coats needed: two. the first coat was really quite streaky.
'Last-ability': 5/10 - mine chipped on the first day, however i didnt use a top coat or anything so im giving it 5/10 cause i didnt really try hard enough to make it last haha!
Drying time: 10/10!! each coat dried in about 45 seconds!!
Hope this was useful for you all :)
i loveeeeeeeeeeeeee brown nails!! x